Being International Student: Face New World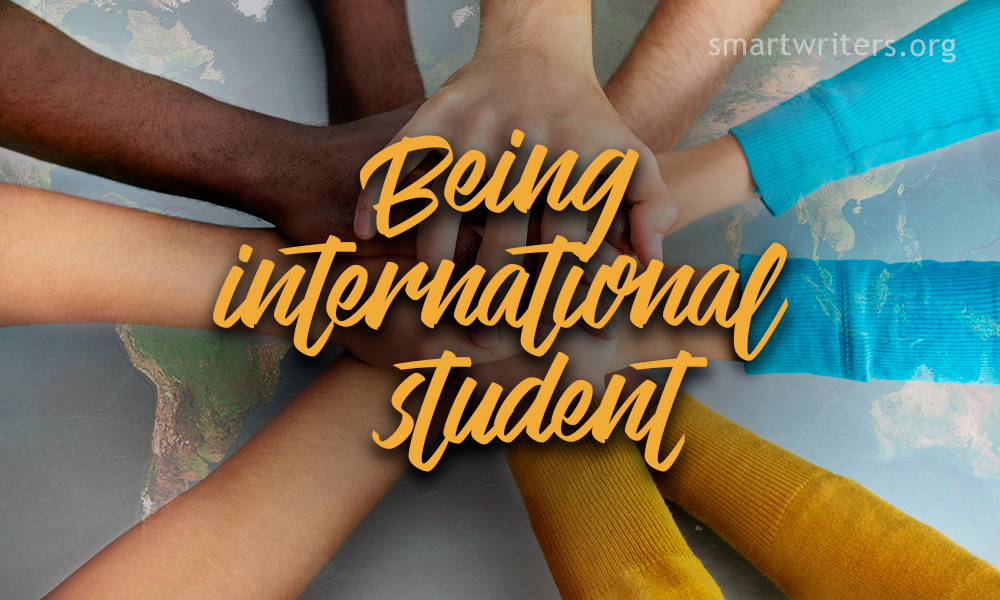 Experts, according to research, argue that the most productive method of studying is far from home. Atmosphere of intellectual activity and learning reigns here. Studying abroad is prestigious and useful, because it allows gaining knowledge at the maximum level, making friends and gaining experience in the knowledge of foreign language. Education abroad helps to open the mind and formulate the knowledge, which is necessary for a highly qualified specialist. In addition, it is the best way to get a job abroad and change the place of the residence. Obviously, studying abroad is like "new world" for the student. However, let us look on pluses and minuses of this "new world". If you need help in writing of any assignment, then services of our site are exactly created for you.
Advantages Of Being The International Student
For many people, being the international student is a real dream. Of course, education in foreign country is not only extensive knowledge but also the opportunity to travel, gain new impressions and experience. There are obviously pros of being the international student:
1. You will get an opportunity to "meet" with the whole world. This is the most important advantage of being an international student. It is obvious fact that you can combine learning abroad and cognition of foreign country. Rich culture and nature, museums and various places of interest will "warm" the interest in learning abroad. Interesting fact is in that you can become a traveler, while your free time allows it. You can know more about not only the country, where you study, but also about the neighboring countries.
2. Possibility of experiencing difference of education in your own country and host country. Being the international student helps you to understand main differences in education in your country and in the country, where you are learning. Without doubt, it is the main part of learning in foreign country. It is up to you with the help of education to learn more about the people and their rich cultural heritage.
3. Involving in different culture. It is not a secret, that majority of students, which wish to learn in foreign country, make this decision consciously. Mainly, it is first travelling in their life. They get "cultural shock" after arriving to the other country. There are many cultural perspectives, which open for them. Weather, traditions, food, local life will seem exciting topic for you. However, it depends on a person. Not every student can experience "cultural shock" in a positive way.
4. Improving of your language skills. The main reason of being the international student consists not only in getting qualitative education, but also in development of your foreign language's knowledge. It is the best opportunity to learn foreign language with the help of living in the environment of host language. Host language will do you a favor during your learning in the university.
5. Chance of career's development. You will look differently on the culture and language skills of your country after finishing of your study in the foreign country. Presence of student's fresh ideas attracts future employers. As an international student, you can choose one more way. Possibility exists in staying in the host country and working here.
6. Appearance of new interests. You can discover, that you have "hidden" abilities and talents with the help of learning in the foreign country. Abroad helps us to leave grey routine life. Without doubt, you could not discover that your "I", for example, is a great surfer, especially if you live in the "cold" country.
7. Appearance of new "language" mates. During the studying, you will face with different students from other countries. Make new friendships with such students. Even after leaving the country of learning, you can have good relationship with them. Maybe, they are your friends for all life.
8. Realization of your self-development and independence. Living independently can help you to achieve new "heights" in development of your character, relation to the world and things. You will become stronger as a person. Knowledge of the other culture helps to orient yourself in ticklish situations.
9. Opportunity to have postgraduate studies. Students, which decide to be international students, are mainly such type of people, which are keen of their abroad education. Graduate schools are interested in such students. They consider that such type of students will not lost in hard situations and make positive impact to their university.
10. Being the international student can be your only opportunity to change your life. Abroad education is obviously can be a part of your life experience. This can be your only way to "break chains" of your routine life and find good job and carrier.
Disadvantages Of Being The International Student
Advantages of being international student are described above. It remains only to discuss all main disadvantages of this interesting global contrivance, which is able to change future life. By the way, you can find  no less current information in Buy Nothing Day essay. Therefore, there are main disadvantages:
1. Another mentality and nostalgia for the homeland. Students start to think about their real home after the week presence in the foreign country. Emotions and new impressions do not last long. It is felt not only language, but also national barrier even with perfect knowledge of foreign language. Mainly foreigners are hospitable people, but they do not have the richness of Slavic soul.  They are kept in emotions, punctual and pedantic. Our residents seem to foreigners as "aliens".
2. Duration of learning. Usually education abroad lasts from eight until ten months. You can obtain alumni (graduate) status only after a full course. If you give up early, there can be no question about the graduation. Large number of links and perspectives will be lost. Therefore, it is important to calculate own forces.
3. The language barrier. It is difficult to understand "native residents" even with great knowledge of foreign language. It is possible to learn words and phrases. However, part of national statements will remain beyond comprehension.
4. The features of residence. It is no matter how the country is progressive and advanced. It is very difficult for person to get accustomed to it. Unfamiliar conditions and "wild" lifestyle can lead to stress. New things and objects can cause the felling of depression. People want to live by the rules of their soul and their nationality, but it is impossible in foreign country.
It can be noticed that all negative aspects of being the international student are linked with the moral perception of travelling student. Therefore, if you do not take a radical change of scenery so close to the heart, you will face with "new world" with pleasure.
Conclusion
To sum up, being the international student is like "new world". Without doubt, you will get qualitative education abroad, rather than at home. Learning in the foreign country has its pros and cons, which are discerned in this essay. It is up to you to decide about your education. Do you like this essay? You can ask our team of smart writers if you need help in writing of essay. We will do it with pleasure.