A Christmas Carol Essay: Important Decision Of Scrooge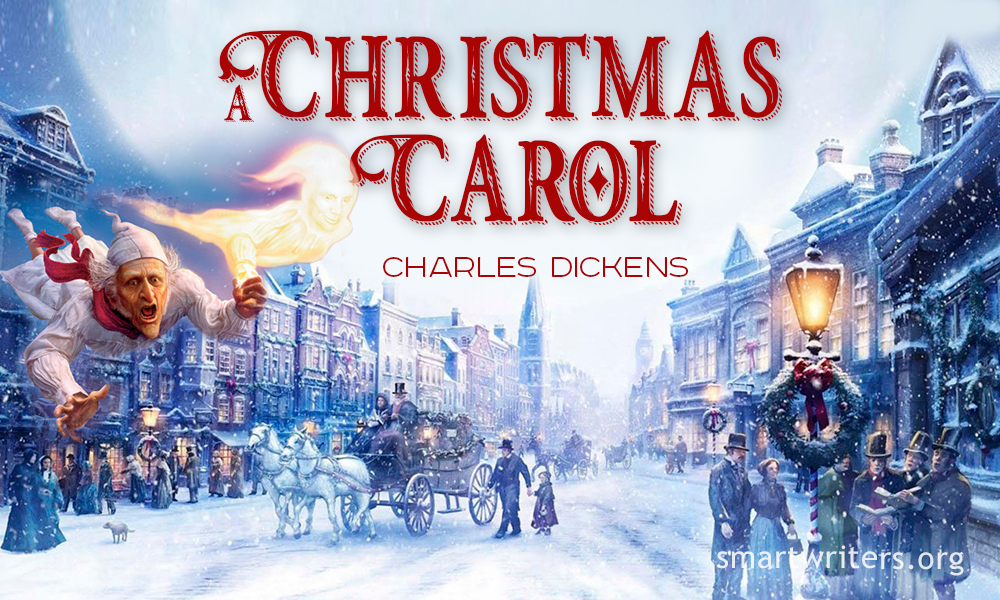 Christmas is considered as one of the most revered in the Christian world. It has its ancient and deep traditions as in English speaking countries, also as in other countries. On the one hand, a religious holiday is associated with the birth of Jesus Christ in Bethlehem. Therefore, there are many symbols, images and holiday ideas, which are embodied in them. These images are correlated mainly with the Gospel texts and the spiritual sphere of human life. On the other hand, the celebration's days of Christmas had long been surrounded by a mystical, mysterious aura. An ancient pagan tradition finds reflection in it. It was believed, that the most incredible and fantastic events could happen these days. In one of a Christmas Carol essays we will talk about the main character of this story, about his realization of his terrible state and his decision. Mainly that time supernatural is particularly active, and therefore not anyone may be surprised to the fact of meeting with the supernatural force. There is another side of the fest of Christmas. It has a secular nature, which is associated with the tradition of family's celebration, the idea of combining the family and friends in these cold December days and the universal idea of compassion and love. At Christmas, the whole family usually gathers at home. Past mistakes and offences are forgiven. Mainly at this time, the family is united in a common pursuit of happiness, and faith in a miracle. This semantic ambiguity of Christmas's perception is reflected in the creation of Charles Dickens. The religious meaning of Christmas and its evangelic images in the creation of Charles Dickens gives way to the commonness. Turning to the Christmas stories of Dickens, which he created different years, we can clearly distinguish two themes. First theme is, of course, theme of Christmas and the second one is the theme of childhood. These themes intersect and partly feed off each other, which are based on inner conviction and worldview of the author. Both themes run through all the creation of Charles Dickens and are embodied in the images of eccentrics and children. This a Christmas Carol essay will give answer about the important decision of Scrooge, the main character of this story.
Charles Dickens and Christmas
In England, the name of Charles Dickens has become as a synonym of Christmas. The great writer greatly influenced on the perception of holiday at home, giving it a new meaning with the help of creating a pure British "philosophy of Christmas". You can read more about the holiday in essay about Christmas. Up to the 40s of the nineteenth century, Christmas was not celebrated in Britain. Only during the reign of Queen Victoria, British people started to decorate Christmas tree and joined to the European countries. In addition, a custom of public performance of Christmas spiritual songs, which nowadays can be heard in the Christmas days in the streets, shopping malls and even underground stations, also appeared during her reign. The first Christmas card appeared in England also in "Victorian era". However, it is because of "Christmas books" of Dickens, which he wrote from 1843 until 1848, which gave the English Christmas spiritual and moral significance of the main and the most favorite holiday. "Christmas books" consisted of such novels:
A Christmas Carol in Prose;
The Chimes;
The Cricket on the Hearth;
The Battle of Life;
The Haunted Man and the Ghost's Bargain.
"Christmas books", each of which he published on Christmas Eve, were conceived as a kind of Christmas parables and preachings of moral purification. Obviously, you face with the problem of writing the research paper. You can buy a research paper online. First story of this cycle "Christmas Carol" greatly influenced on the atmosphere of British Christmas. The reason for its writing was a need of money in order to pay debt. Dickens ran a bill of 270 pounds to his attorney. It was a sizable sum of money in those days, if we can consider fact that gentleman could live without the conditions of poverty on 100 pounds a year. Dickens father was thrown into debtor's prison in the 20s of the nineteenth century. When he was a child, Dickens worked hard at the tinctorial factory. Dickens all his life experienced financial difficulties and was afraid to repeat the fate of his father. The idea of long novels, which he used to publish to the print with monthly extensions, was not so good. He decide to write short story. He began to write it in October 1843 with an aim to publish it before Christmas. In order to gain time, Dickens decided to develop the image of Gabriel Grubb, who was the minor character of his "Posthumous Papers of the Pickwick Club". Are you tired from writing of scientific papers? Let us help. Our services is exactly, what you are looking for.  That is how was born Ebenezer Scrooge, whose name became nominal in England. The idea of changes, which were made by the decision of this man, will be discerned in one of Christmas Carol essays.
To Be or Not To Be? Decision of Scrooge
A greedy old man is shown in the story of Dickens "Christmas Carol". He does not have family and friends. In addition, he is not glad to such great holiday as Christmas. Scrooge has all. He is rich, has trade union, and is able to earn the money. Indeed, there will not be any holiday without money. There will be no possibility to buy gifts and "make festive table". Money is very necessary for all. Poverty and squalor are very unpleasant. In this story, Dickens showed how ugly the "Poverty" and "Darkness" are.  They are depicted as little children, but these children are ugly, shriveled, thin, raged. Nobody wants to be miserable. However, Scrooge is no better than these freaks. Although he is rich, but behaves as poor, because he saves money on everything. He has no holiday and gifts. Scrooge knew true happiness, when he managed to make beautiful things. He gave the family of his clerk Bob large turkey, and after that, he went to visit his nephew. He began to smile and do good things. His soul warmed because of that, and Christmas became his favorite holiday.
It seems to me, that our family  is the most precious thing in our life. Each of us wants his mother, father, brother, grandmother to be happy and always smile. When family gathers, even without gifts, obviously is the most valuable thing for each of us. It is good, that Scrooge realized his mistakes and managed to correct them. Scrooge made decision in order to change his life:
Decision to be polite and pretty to other people;
Decision to help other people, which need money with aim to survive:
Decision to be with his family (nephew);
Decision to celebrate Christmas.
At first, we saw Scrooge as an unattractive type of person. Scrooge was a real miser. He was greedy, hard, sharp as a stone, mysterious and was like a slug. His look was so cold that everybody could freeze from it. Moreover, Scrooge did not decided to change this. Scrooge was really a bad man. Charles Dickens described his appearance from the beginning, so it was clear, that it was nothing beautiful in Scrooge. However, ghost of Marley and three spirits decided to save Scrooge and help him to change. He saw himself as small and lonely, saw his affectionate sister and the family of Bob. In addition, he saw his own death and realize that none of people could say anything good. Therefore, he decided to change. Therefore, Scrooge became generous and cheerful. He realized that the beautiful things and good heart is more important than the parsimony and rudeness. Christmas became his favorite holiday. We can obviously say that the decision of Scrooge was important in changing of his life.
Conclusion
Charles Dickens was the first writer, who influenced on the development of Christmas in Britain. He was also the first writer, who described Christmas from the enlightening point of view. His first story of his Christmas cycle describes a greedy and bad person Scrooge. However, in the end of the story Scrooge became another person. That is because of his decision, which is obviously important. It helped him to change externally and internally.