Essay on Christmas History And Traditions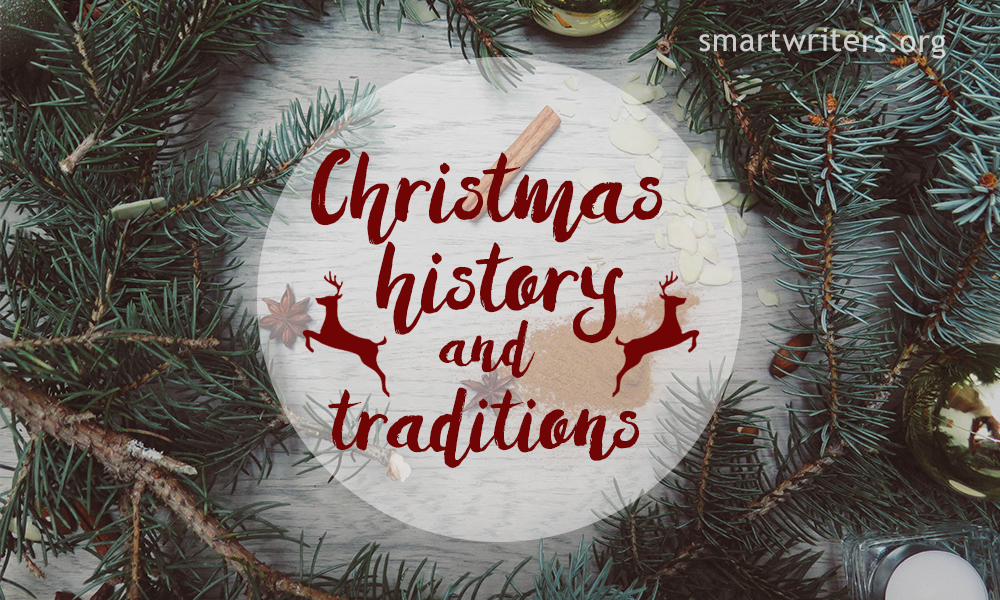 What do British call "pigs in a blanket"? Where has the custom to kiss under the mistletoe appeared from? Who was Santa Claus? And many questions and answers are in our article about how and why people celebrate Christmas. The team of professionals in the sphere of writing will kindly tell you about traditions and symbols of the holiday. All the information will help you to write your Christmas essay well!
Christmas history
The holiday of Christmas is celebrated by the majority of Christian faiths on December 25th which is considered to be a birthday of Jesus Christ. The Orthodox Church celebrates Christmas on January 7th (corresponds the 25th of December according to an old Julian calendar while the western faiths adhere to a new Gregorian calendar). Christians of Armenia celebrate Christmas on January 6th, together with a holiday of the Holy Theophany of Our Lord Jesus Christ.
The exact date of Christmas isn't determined – according to assumptions of many historians, Christmas should be celebrated in September.
The word "Christmas" (pay attention to its pronunciation: [ˈkrɪsməs], a sound [t] drops out), has occurred from Old English "Cristes maesse" (the Christ's mass is church service in honor of Jesus Christ).
Also, read the information about the company, and ensure that you can trust our great experience.
Eve of Christmas (Advent) or Nativity Fast
Christians begin to prepare for Christmas for 4 weeks before the holiday, but in some church faiths – for 40 days before it. Many people of faith observe the Nativity fasting, they avoid certain types of food. Severity of a fasting depends on the charter of church faith.
12 days after the Christmas – Christmas-tide and Epiphany
By tradition, people celebrate Christmas during 12 days, finishing a holiday in the evening on January 5th (the so-called "twelfth night", Twelfth Night – the name of the Shakespeare's play of the same name; it is also known as the Epiphany's eve or Christmas Eve).
And each of twelve days of a Christmas-tide (Yule) is an excellent opportunity to indulge in fun after a long fasting.
The next day after Christmas Eve all the Christians celebrate Baptism Epiphany when fete wise men (Three Kings) who have visited newborn Jesus and his Baptism in the Jordan River by John the Baptist.
In our blog you will also find many interesting and popular topics.
Candlemas is the termination of Christmas holiday
Many people believe that the celebration of Christmas comes to an end with carrying out of a fir-tree – but it is not so! According to a Christian canon, the end of winter Christmas holidays is Candlemas. It is very important church holiday which comes in February, in 40 days after Christmas. Its name in English comes from Candle Mass expression, as during church service this day there is a dedication service of candles.
Our company of writers and editors provide different kinds of services. Read about them here.
Secret sense of Christmas symbols
1) Saint Nicholas, a real prototype of Santa Claus, lived in the 4th century of our era in the city Myra in Lycia on the southwest coast of Asia Minor (modern Turkey). In Orthodoxy it is Saint Nicholas the Miracle-Maker. The name Santa Claus [ˈsant ə ˈkl ɔː z] has resulted from distortion of a pronunciation of Saint Nicholas [ˈs (ə) of nt ˈnɪkələs].
2) The tradition to put an evergreen coniferous tree (a fir-tree, a pine, a fir) for Christmas has arisen in Germany in the 16th century and has gained popularity in England to the middle of the 19th century thanks to prince Albert, the German by his origin, the husband of the Queen Victoria ruling at that time. Evergreen trees symbolize firmness and endurance in the face of danger, and on some beliefs they are capable to frighten off evil spirits from the dwelling.
3) Holly – the evergreen unfading plant which is symbolizing eternal renewal and immortality and, on a belief, frightening off evil spirits. Early Christians saw deeper meaning in this plant – its leaves represented for them a crown of thorns, and berries – drops of the Saviour's blood.
4) If a holly is the king of winter, so an ivy is the queen. The unfading evergreen plant, an ivy, represents the vital force, endurance and hope – even in the most severe conditions.
5) Mistletoe is a symbol of freedom, peace and friendship. The tribes, inhabiting Europe in the ancient time, laid down arms and stopped wars, noticed it near the place of battle. This "peacekeeping" quality of a plant has also generated tradition to kiss under a mistletoe as a sign of love and friendship.
6) The custom to present gifts for Christmas has to remind us about gifts presented by magicians to the Baby Jesus.
7) Angels, agents of light, are also one of Christmas symbols as this day we celebrate newborn of the world and a triumph of Light over Darkness.
8) A star on a fir-tree top is a reminder on the Star of Bethlehem which has ascended at the time of Jesus's birth.
9) Hand bells are an ancient symbol of protection against evil spirits. The form of a bell reminded to ancient people a vault of heaven. In Christianity the sound of bells is a sacred herald of Christ presence on a church service.
10) Candles symbolize Light which has come back to people (coming of the Son of God on the earth).
11) Caramel canes have been "invented" in the 17th century especially for disobedient children; it was difficult for them to sit through a long Christmas mass quietly.
12) The exhausted chorus master of one of cathedrals has made for them lollipops, so they have something to be engaged in during the church service. And the bent form, reminding a shepherd's staff, has been designed to remind of the shepherds who have visited the Baby Christ on the first Christmas.
13) The Gingerbread Man is a reminder that God has created Adam (as well as each of us).
14) The tradition to hang up a Christmas stocking over a fireplace has arisen from a legend and is also connected with Saint Nikolas. In one village the poor man was dying, leaving three daughters without a piece of bread. Saint Nikolas has heard how villagers spoke about unenviable destiny of girls, and has decided to help a poor family, having made it secretly. According to one of versions of a legend, Saint Nicholas has thrown into a flue pipe three pieces of gold which have got to the girls' stockings which were hanged out over a fireplace for drying.
Interesting facts about Christmas
8 is a number of Santa's deer. Their names are taken from the fairy tale of the American writer Clement Moore "Saint Nikolas's Visit": Dasher (Prompt), Dancer, Prancer (Racer), Vixen (Quick), Comet, Cupid, Donner (German Thunder), Blitzen (German Lightning) and red-nosed Rudolph (doesn't enter the constant eight, but sometimes he is also put to sledge).
700 million pounds sterling – so much British annually spend for Christmas gifts.
1 is a number of sweet mince pies which need to be eaten in each of 12 days of Christmas to attract good luck.
8 million is quantity of the live pines and fir-trees which are annually necessary for Great Britain for Christmas holidays.
822 is a number of houses which Santa Claus every second would have to visit to deliver all gifts.
10 million is a number of the Christmas turkeys baked in Great Britain.
600 000 is a number of letters sent to Santa Claus by British every year.
16 is a number of gifts which is received by the average British child for Christmas.
957 is an average number of calories in a Christmas dinner.
20 meters is fir-tree height in London on the Trafalgar Square (according to traditions, a tree is presented to the men and women of London from people of the Norwegian capital of Oslo for their help to Norway in World War II).
We have chosen the most interesting information, which may be useful for Christmas essays. As well as theme of Christmas, you may examine other topics, as "buy nothing day", or "1984 by George Orwell". If you have some questions, you may contact us and our Support Team will help you!