Abigail Williams Essay: Who Is She?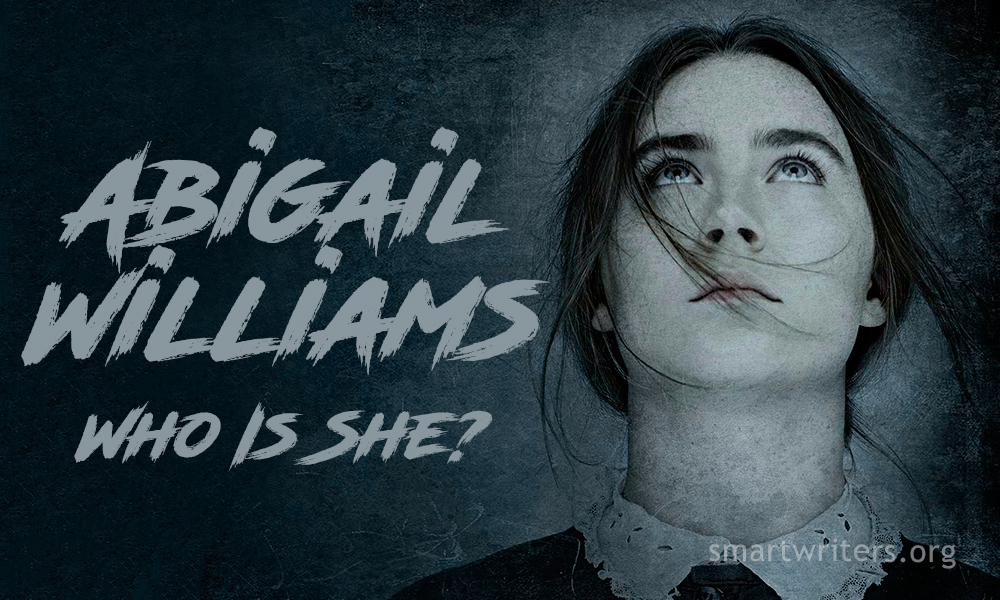 Women-villains are the object of many writers. As rule, women-villains are very beautiful and charming. In this Abigail Williams essay, we will examine the main villain of Arthur Miller's play "The Crucible". This play was written in 1953 and put repeatedly on the stages of theatres around the world. This paper got also screen adaption in 1996. "The Crucible" was published in the countries of former Soviet Union under the title "Salem Witches". The events of 1692 year in the town Salem, where women were accused in sorcery and dealings with Devil, were the main plot. Women were recognized as guilty. Therefore, they were executed. Subsequently, the church recognized such trials and executions as illegal and unjust. One of the story lines just shows the development of process in Salem and the tragedy of women, which cannot prove their innocence because of the absurdity of accusations, which were presented against them. Abigail Williams played the important role in this charges. In this essay, we will discern  essence of main heroine.
Real History Of Salem In 1692
In January 1692 in Salem, daughter and niece of Samuel Parris, who was local pastor, became ill. The causes of disease's appearance also as the diagnosis could not be established. Every day girls just kept worse and worse. Symptoms of the disease were very strange:
children hid behind the furniture;
they complained on visions;
girls complained on pricks by knife and pin;
daughter and niece of pastor had strong fever.
Local doctor did not have sufficient knowledge. However, after reading the popular at that time book of pastor Cutter, he discovered that the girls' disease was the result of Devil's machinations and witchcraft of local witches. As proof of his diagnosis, he gave descriptions from the Cutter's book, which was called "Memorable Providences Relating to Witchcrafts and Possessions". It was published in 1689. Book described an incident that occurred in Boston in 1688. The author talked about the accusation of the Irish washerwoman witchcraft, who put a spell on the children of her master, a priest of the New Boston Church, Cotton Mater. Salem's local elite in the face of priest, vice-governor and doctor did not find anything better than to say that girls' disease is witchcraft. Are you tired of making difficult assignments? Services of our site are that you are looking for.
A few days later, Elizabeth Parris accused of witchcraft Tituba, who was the slave of priest. Many residents suspected Tituba of witchcraft, because Parris brought her from Barbados. She told many things about the voodoo to the girls. Disease overtook female friends of the girls, including the youngest daughter of Parris's friend, Anna Putnam. She had the same symptoms. Moreover, children accused of witchcraft two other women, which were quarrelsome neighbor of Paris Sara Osborne and beggar Sara Good. These two candidates were very comfortable for the charges, because two women did not attend church. In February 1692, Sara Good and Sara Osborne were arrested on suspicion of witchcraft and collusion with Devil. Arrested Tituba told the inquisition that she and other four arrested women were witches, which flied with her on broomsticks and tortured sick girls. All suspects were went through to humiliating inspection, whose aim was to identify special witches' marks on the body of accused women. Stories of children and the provocation of authorities were not in vain. Mass paranoia covered the population of Salem. Almost every resident was suspected of witchcraft. Shadow of wizard complot fell not only on accused women, but also on their relatives and other "unsuitable" citizens. Topic of "unsuitable" citizens was marked in Arthur Miller's play.
As a result, the arrests became widespread. In the result, during the Salem "witch hunt" nineteen people were sentenced to death by hanging. About 200 people were under arrest. One of the suspects was crushed by stones. In May 1693, the governor of Massachusetts pardoned the remaining defendants. In 1697, the court admitted in erroneous decision. In 1702, the judgment was declared illegal. All these tragic events found reflection in "The Crucible". Do you have no time and inspiration to make good essay? Our essay service with pleasure will help you.
Essence Of Abigail Williams
 There are always characters in the literature and cinema, which we like and hate at the same time. We feel passion to such hero or heroine and have strong antipathy. Arthur Miller shows us vengeful, selfish and magnificent person Abigail Williams. She is great liar. She leaves only death and destruction on her way. This woman is able to manipulate people. Therefore, Abigail easily gains control over people. Her behavior makes her an excellent antagonist.
Her skills of manipulation are easily seen in first act of play. When she realizes that she can be suspected in witchcraft, she blames her colleagues in dealings with Devil. However, Abigail tells other people, that she herself is innocent. Nevertheless, we can observe, that our heroine drinks blood in order to kill the wife of John Proctor. She forces to think that Tituba makes all witchcraft. People, that surround her, really believe that she talks truth. Main antagonist promoted the witchcraft and was participant of it. Nevertheless, she accused everyone in black magic.
In the second act, Abigail shows her ruthless, when she frames Elizabeth Proctor in witchcraft. She lost remnants of her human nature cursing that person, which girl loves above the all. John Proctor tries to open eyes for surrounding people. Nevertheless, it ends badly. John was put under arrest.
Why does she do all these things? Miller shows us an interesting fact about her childhood. Young Abby saw the death of her parents from the hands of Indians. It partly explains her evil nature. The second reason can be also a low social position of Abigail. Girl grows without parents. She is unmarried. In addition, the worst thing is that she is female during the ruling of patriarchal puritan society.  You can read about the topic of woman's freedom in a Doll House essay. The only person, who has lower position than her is Tituba. The wife of John Proctor also marks her negligence in front of other people. It was obvious, that Abigail Williams tries to gain power in her hands in order to have her revenge.
Conclusion
To sum up, it should be said that Abigail Williams is one of that characters which we like and dislike at one time. Arthur Miller described real events of Salem process in 1692 in his play. Heroine Williams played an important role in lives of Salem's citizens in "The Crucible". Analyzing the main heroine of this paper, we can definitely say, that Abigail Williams had such sides of character:
She is selfish and vengeful creature;
Talent of manipulation is her main feature;
She likes to lie;
Woman does awful things because of absence of happy childhood and low social status.
Heroine of Abigail Williams definitely relates to such heroes, which cannot leave behind regardless.