Essay About Yourself Is The Core of Your Success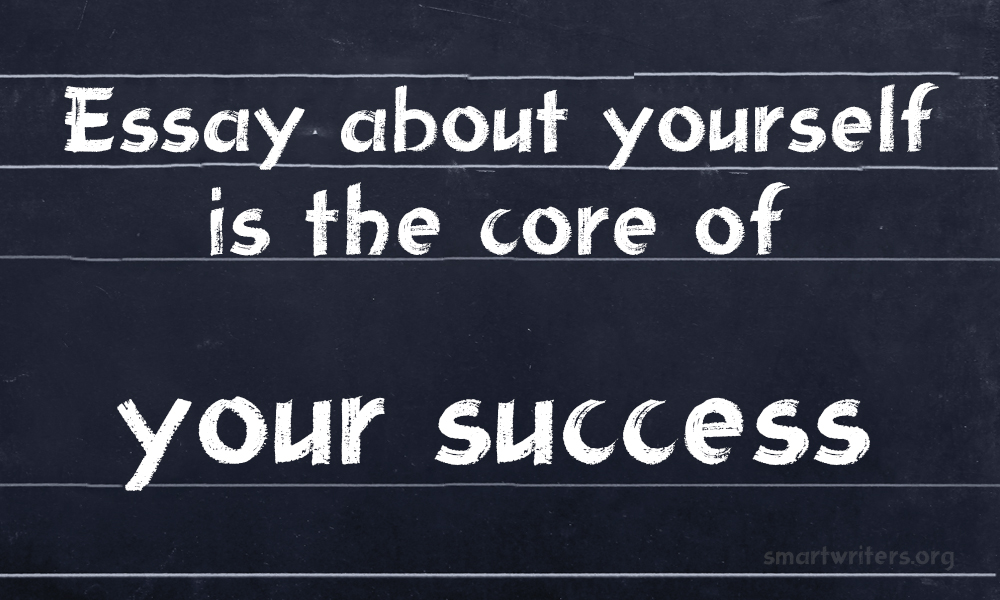 Writing an essay about yourself seems difficult task for any applicant, who has decided to continue his learning at the university. Writing of such type of paper is required condition of successful enrollment to the university. This is a creative task but every candidate needs to adhere strict instructions when he writes it. This type of assignment has name of application essay. In addition to the writing of paper, applicant has to prepare for preliminary examinations. Naturally, the lack of time is main "enemy" during writing of application essay. Entrants have such days, when "muse" does not attend them. As a result, they do not have any idea about how to write this type of paper and most important thing about what they should write. All is complicated by the fact that entrant needs to write essential information in a certain number of words. Writing of superfluous and unnecessary information only spoils impression about candidate. The essence of this paper to provide the real purposes of application essay and advices about successful writing of it.
By the way, smartwriters.org provides services in writing of application essays. We can fulfill your any orders. Do not afraid to ask us for help. We will be glad to do qualitative paper for you.
Why Should Applicant Write An Application Essay?
College essay about yourself is, without doubt, a task, which allows applicant to reveal his potential of creativity. Application essay is essential condition if applicants want to enter the university. The main aim of this paper for admissions commissions to see what kind of people future representatives of university are indeed. It is understandable, that every person is afraid of giving few information about himself or instead many useless information. Any mistake costs for entrant failure in entering for university. There are many information about ways to boost creativity but let us look on real purposes of application essay.
1. Admissions commissions want to know, what future representative of university has in the sphere of writing. All learning in the university means regular writing of papers. When entrant writes an application essay properly, he shows own strict, clear way of thinking through logical and right narrative. Commission makes notes of how successful applicant will be in scientific approach to the writing of academic papers.
2. It is important for them to know applicant's subject of learning and reasons of its learning. Commission wants to know, what entrant wants to study in their university and reasons of learning this discipline. They can check if candidate is really interested in, for example, engineering. It is impossible to write good paper without proper reading about the engineering and the system of engineering's learning in this case.
3. They want to mark for themselves entrant's human nature. It is not a secret, that candidate's character and personality are recognized through writing. To write an essay about yourself means to describe your individuality and personality.
4. Admission commission expects to see the realities of applicant's world. It is quite essential to learn about hobbies, system of values, preferences and ways of thinking of future candidate. These things describe the picture of applicant's world.
To sum up, colleges want to see what is hidden inside candidates. Various tests do not show anything else than scores. Application essay tells new about your individuality. If combining all purposes, conclusion can be made about persuading the committee about person's wish of learning of certain object and recognizing of candidate's uniqueness.
How To Write The Best Application Essay?
Team of smartwriters.org as one of the best custom writing services wants to give advices in writing of application essay. Application essay differs from other essays with such fact, that you do not have to write about a certain problem in social life. Your aim is brief explanation of your formative experience, which does not sound easy. The important thing is to write this outline in time and not to write it at the last moment. Let us look on effective tips for successful writing in this essay describing yourself.
 1. Your application essay should contain answers on such questions:
How and why have you become interested in the chosen subject or course?
How can you demonstrate this interest?
Why have you chosen this university?
Did you have to overcome difficult situations and obstacles (financial, social, and physical) to achieve their goals?
What skills and personal activities do you have?
How do you show the strengths of your personality in life?
What should make the person, who reads every day hundreds of such texts, to remember and highlight exactly you?
2. Give attention to details. You have to gather all information about yourself and highlight all details. Try to write such moments, which will have good impression on commission.
3. Follow the interests of the institutions. Some universities give a hand of help to the students publishing useful content about the writing of application essay. It is in your interests to follow this help.
4. Do not forget about the requirements of universities. Sometimes you can be asked to write outline by hand. Therefore, do not be surprised. Be ready for all possible requirements.
5. Put the accents in the right way. Application essay is such essay, where question tag "why" dominates. If you can substantiate all your answers on questions, then commission will not have any doubt that you are appropriate person for learning in their institution.
6. Do not underestimate yourself. Your goal during writing of introduce yourself essay is to show that you are the only one person, which commission wants to see in their university. Do not afraid to tell about positive sides of your personality and not be dull at the same time. It will be nice to tell that you are always ready for improvement.
7. Write your essay with a simple language. It is nice when person tries to show his own knowledge of language, but it will do a bad thing with many mistakes. Bad impression will cost you not entering to the university. Evade long sentences and use words, which are simple.
8. Show your uniqueness. Try not to copy the style of other authors by the using of their own phrases. In addition, it is important not to copy ready application essays. Commission reads such letters permanently. You will not gain any benefit witch such actions.
Conclusion
Writing of application essay is essential for every person, who wants to continue his education in university. This essay helps commissions to select talented students for learning in their university. You can follow our advices in order to write an application essay properly. Persuade the commission just with the help of well-written application essay.