Roaring Twenties Essay: Uniqueness of Women Fashion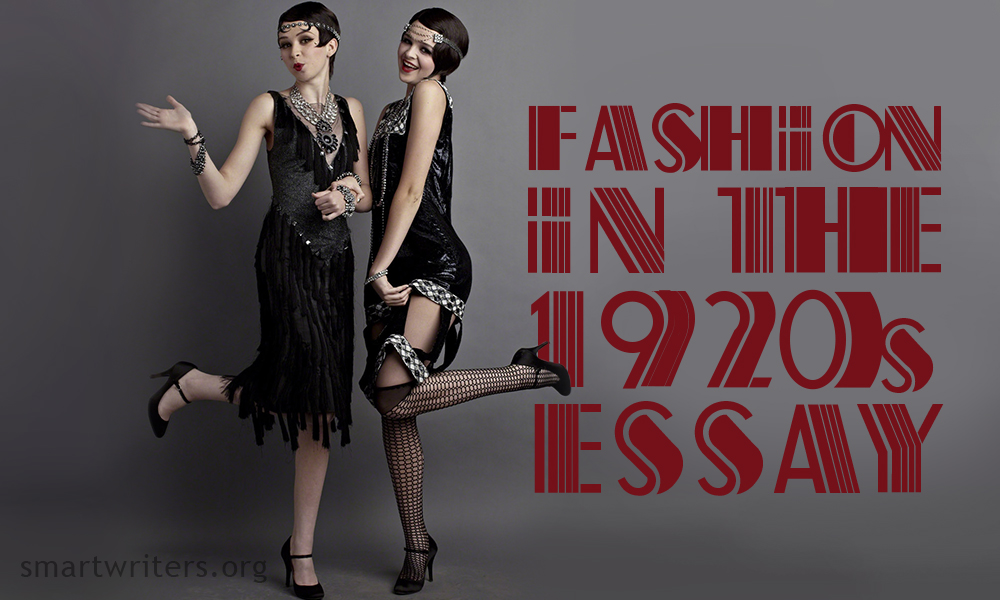 People called the period after the First World War such interesting and unique names, as "roaring twenties", "golden twenties" and "crazy twenties". Those were not only all names, which people called the decade, which replaced the period of trials and turmoil. Any of these epithets emphasized the feature of time with its extraordinary vitality, with new hopes, and emerged from the survivors of the World War I. They wanted to live in "full speed" in order to receive the pleasure and rejoice, as if everyone realized, that the world would be again on the "verge of disaster". They could not imagine that such "disaster-person" Adolf Hitler will appear. Adolf Hitler essay will help to research information about him. XX century is an era of rapid change, progress, cultural prosperity, wars, the discovery of nuclear energy and space exploration. The first decade of this century was characterized by the disasters in public life, a revolution in the public opinion, and therefore, changes in fashion. In this 1920s essay I will tell about the features of women's fashion during the age of "roaring twenties". Hairstyles for long hair, such as "helmet" and "turban", decorated with the threads of pearls and flowers, persisted at the beginning of the century. In 1904 it was invented in Germany a permanent wave – long-term wave, which could be in order for 6 months. Wars and revolutions had forced women to change their destiny and finally to do practical activities. The manners had changed. Therefore, the fashion had a new image, like a "woman-boy" in a not so long dress, with short hair of geometric lines. When World War I started, many women took care of the wounded in the hospitals. Time of war greatly influenced the female world. While the men were at war, women carried out their responsibilities and learnt new professions. Hard conditions in the factories and plants, care after wounded in the hospitals, digging of trenches, responsibility to serve as firefighters, police officers have made the female character different. Women changed as internally, so as externally. They did not have time for intricate structures, so the hair was often sheared. Unlike the past years, in the 20-th century each decade was an era in terms of gloss. There were not all fundamentally new things in the creation of ladies' hairstyle, leaving only endless variations and marketing moves to the descendants. As an example, Frenchman Marcel in 1881 invented tweezers for marcel. From 1884 until 1885, he perfected the method of hair's curling with the usage of chemical resources, that was made by German Fischer. In 1904, German Charles Nestle invented a method of performing of continuous hair's curling through the usage of chemical resources and heat. All these genial inventions had given a revolutionary result. These inventions released much women's time, which was previously spent in order to construct the hairstyles. The start of the 20-th century was marked also as the period of silent film, whose international and domestic samples sang the prior lady's ideal as the innocent or the fallen angel. Thus, that era associated in our minds with the lifestyle of movie stars, their hairstyles, which show the opportunity of curling and dye of hair, accentuated make-up and the general melancholy of the lost time. In this roaring twenties essay, we will discern the traits of that time fashion through hairstyle and clothes. Be sure, that our services can help you in writing of essay. You can find more information here.
"Roaring Hairstyles"
Short hair confidently became the mainstream in women's fashion in 1920s. Girls with short hair became the personification of changes and new life. The most popular hairstyles were recognized such hairstyles as "babi-copfe" and "a la garson". Hairstyle "babi-copfe" was made of short, finely curled hair. Sheared hair served as a basis for such hairstyles, as "foxtrot", "polka" and "tango", which got their names from popular in that time dances. The beginning of the XX century gave the birth to the world-famous hairstyle "square". However, long hair was not out of fashion. They were parted in the middle, knotted and slaughtered in a bunch at the neck. Hairstyles from them had become smooth. They were decorated with beads, tortoiseshell combs, silk and velvet ribbons, massive brooches, made of semiprecious stones and jewelry, flowers and laces. Irene Castle Bob shocked the world short saucy haircut, which got the name "bob". In October 1921 Irene Castle, one of the unwitting culprits of new scandalous female image, provided an article "I bobbed and then…." to a popular women's magazine "Ladies Home Journal", in which she told everything about her appearance on the dance floor with a short haircut. She told that she specifically did not remove a small hat from her head, trying to cover up the consequences of staying in the hospital.  A few of her friends asked her to remove the hat and show what was hidden beneath it. What they saw, caused delight. However, Irene's revelation were no longer important. Short hair was in fashion. In addition, turn back was impossible. With the appearance of haircuts of such type as "woman-boy" women's look radically changed. Charleston, loose-fitting dress, pearl necklaces and short hair , that appeared after the First World War, were an outside sign of the new time and new style. The well-known representatives of male style were Marlene Dietrich, who willingly wore men's tuxedos, and Asta Nielsen, who had played the role of Hamlet. Therefore, a style of "woman-vamp" appeared. The reign of blonde-haired women was overthrown. The typical look of woman in "roaring twenties" could be described as frail, pale, with black, sheared short "square" hair and straight bangs, falling down on the painted eyes. The debate, whether woman can have short sheared hair or not, was at the high priority. Numerous articles appeared in newspapers and magazines, which most seriously discussed the issue of new women's fashion. Frightening headlines appeared in press works, such as "Short hair contributes to the destruction of the family", " The husband shot himself after his wife cut her hair", "Short haircut may be the cause of headaches" and etc. Women's short hairstyle caused an outrage for majority of men. Many priests made sermons, calling a new fashion as "devil's tricks" and urged parishioners to resist it in every possible way. Many conservative employers could dismiss the woman, if she was doing the haircut. Nevertheless, the women persisted to follow the fashion and hairdressing salons appeared one after another.
"Roaring Costumes"
Clothes of women, which they wore before the World War I, was completely inappropriate in time of war. Ladies, which worked on the line of war, had to have practical in wearing things. Corsets became absent in feminine items. Silhouettes became different. Clothes became shorter. Intricate hairstyles were not present. The clothes, which were sewed for the military, took root in the daily life. For example, the trench coat, which is well known and loved even now, had been proposed as a uniform of English Army. Women continued to wear a universal invention of Thomas Burberry, which was sewn from the waterproof gabardine, in peaceful "roaring twenties". The feminist movement was gaining its momentum. Therefore, 1920s is the period of women-teens, ladies with androgynous bodies of 15-year-old boys.  Long string of pearls (length reached up to 2 meters) had to lie completely flat on the chest, even a hint of breasts was considered reprehensible. Thanks to the active sports, massage and diet, women could acquire a new body - with narrow hips and a completely flat breast. Make-up of that time compensated a lack of feminity. Join to our essay writer service. We will be glad to help you. Eye shadows, black eyeliner and dark-red lipstick turned any woman into fatal beauty. There were colored nail polishes, which effectively had mix of cigarette in the mouthpiece. Women of 1920s could not imagine their life with absence of such things, as lipstick, mascara, eyeliner and face powder. During the "roaring twenties", the booming cosmetic companies slowly developed all sorts of new items. Two eternal rivals Elizabeth Arden and Helena Rubinstein offer in own beauty salons the comprehensive approaches about the care of face. Ladies massively cut their hair, began to drive the car, smoke in the society, go to theaters and restaurants without having the first satellite - man, wear clothes in the men's style: tuxedos, pantsuits, shirts and ties, hats and scarves, closed shoes such as men's oxfords. Drapes, long scarves, straight skirts, which often had pleated folds, were popular in "roaring twenties". At what, waist emphasized hips. Skirts rose rapidly. They were knee-deep in 1925. After war horrors, people were addicted to musical euphoria. All society captured the passion for jazz and  glam dances – foxtrot, charleston and tango. In the 1920s, musical rhythms of South America and the North American continent conquered Europe. The passion of dancing conquered the world and changed the fashionable suit.  Short shiny costumes with flying "tails" looked dazzling, and the fringe, which decorated them, emphasized calisthenics and "ragged" pace of dances. Dancing shoes on a stable heel with membrane and knitwear were the hit of the decade. There had been a real boom in the shoe industry. For the first time, women could choose the model of shoes to a particular dress. They used diamonds in order to decorate the costume. Therefore, there were a many special buckles and belts. Passion on exotics swept the ladies of Europe in that time. The excavation of Tutankhamen caused insanity – Egypt mania. Drawings of lotus, scarabs and Cleopatra were everywhere. Fashion magazines, designers, and jewelers began to copy geometric female hairstyles, which were similar to Egyptian wigs, costumes of elongated theme, ornaments, silhouettes of ancient Egyptian costumes and decorations.
Conclusion
To sum up we can definitely consider that "roaring twenties", "golden twenties" and "crazy twenties" were the years, which were overflowed due to gloss, were  full of newness, and  turned the perception of femminity in other way. These years put in the treasury of international fashion many innovative ideas that have become eternal values over time.