Bipolar Disorder Essay: Is It Really Dangerous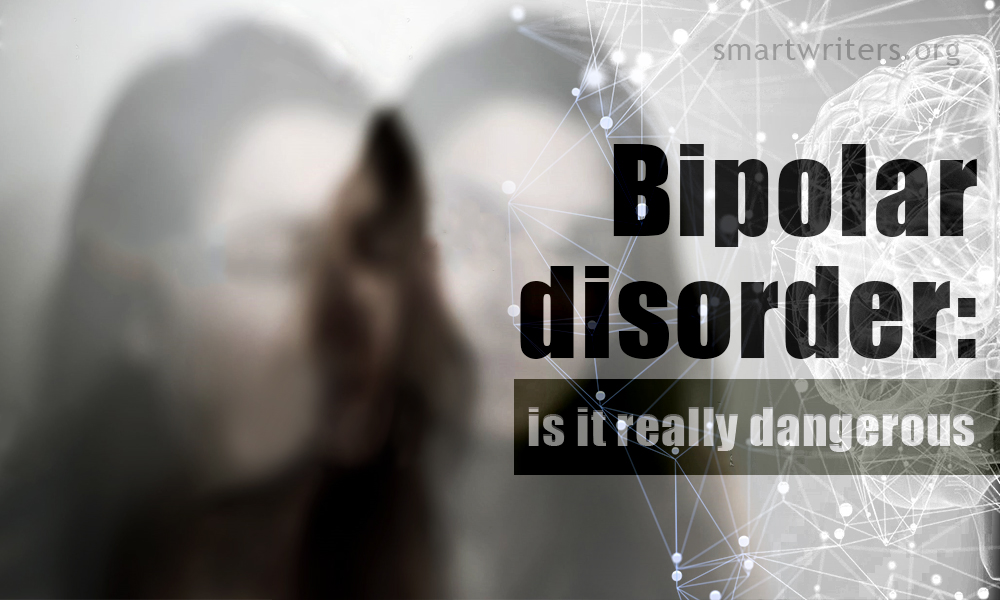 I suppose almost everybody has heard the term "bipolar disorder" at least once in his/her life. But do you really know much about this mental illness? If your knowledge is pretty limited, this bipolar disorder essay will definitely help you enrich your intelligence in this sphere. Scientists and physicians usually describe this disease as a mental disorder, the main symptom of which are affective states. They could be manic, depressive or sometimes mixed, when patient experiences quick changes of symptoms. Actually, there is a great variety of mixed states. The second name for this disorder is manic depression. Psychiatrists consider this disorder to be an extremely serious disease. The treatment for people with bipolar disorder is difficult as well, because it requires a great deal of knowledge in the sphere of psychopharmacology. Patients with this mental illness usually take very strong medicines, so it is quite hard to predict possible side effects. In addition, this disease is a bit mysterious, as everything related to the human brain. For example, the reasons for bipolar disorder remain not absolutely clear. So is this topic interesting for you enough? Then keep on reading, in order to show off your new psychiatry knowledge between your friends.
And if you enjoy reading articles on medical topics, you should read this essay without any doubt: http://smartwriters.org/blog/asthma-essay-is-it-possible-to-cure-this-disease,
In this essay you will read about the reasons for its appearance and the ways of recognizing bipolar disorder. The information about methods of therapy will be also provided. In addition, you will learn some facts and special features of this disease. But after reading this essay do not forget to read some useful information about us and our services. Be sure, our team is able to deal with any order!
How to distinguish the symptoms of bipolar disorder?
All of us can be moody from time to time. Sure, it depends on our character and temperament, but some people experience changes of mood more often than others. Sure, it does not necessarily mean that the person is ill. Usually these changes are the result of strong emotions or stress. For example, important exams or a difficult assignment in school or university may influence your mood. However, there is an easy treatment - our experienced essay writing service is always here for you. In addition, our service cares about your comfort, so you may make your order now or whenever you like. During the bipolar disorder these changes of mood go far beyond the norm and do not correspond to the real circumstances of life. Mood swings include both deep depression and manic state. Psychiatrists differentiate depressive and manic episodes. Both of them have individual symptoms. If you have noticed some of these warning signs of bipolar disorder in your behavior or behavior of your family members, friends, you (or a person with these symptoms) should certainly visit doctor without any delay.
The list of the depressive episode symptoms is following:
continuous state of sadness, anxiety or emptiness;
pessimism and feeling of hopelessness;
guilt, feeling of helplessness and worthlessness;
loss of interest to the previously favorite activities;
decrease of energy level, feeling of constant exhaustion;
difficulties with concentration, memorizing, decision-making;
somnolence or insomnia;
change of appetite, loss or gain of weight;
thoughts about death or suicide, attempts of suicide.
Among the signs of manic episode are:
heightened activity and energy, anxiety;
extreme excitement, euphoria;
irritability;
lack of concentration;
confusion of thoughts and high tempo of speech;
decreased need for sleep;
inadequate estimation of real situation;
squandering;
increased sexual activity;
denial of the problem;
importunate or aggressive behavior.
If you want, you may read about another disorder, which is described in the following essay:
http://smartwriters.org/blog/autism-essays-neurodevelopmental-disorder. By the way, if you have to write an essay on any topic, including medicine, all you need to do is pay to have a paper written by experts.
It is also extremely important to know the signs of suicide intentions:
conversations about death or suicide;
drug or alcohol abuse;
strong desire to bring everything in order (before death);
writing of suicide note;
desire to be exposed to danger;
feeling of being a burden for a family and friends;
feeling of hopelessness.
You may find these essays interesting as well:
●Need Essay Writer Online? We Are Here to Help You
●We Proofread Essay Online: Quality Is Guaranteed
●Grade Papers Online Is Easy Work For Us
●Can You Do My Homework: Who Can Help The Student?
●Education Essay: We Will Help With Your Assignments
What causes this serious disorder?
It is surprising enough, but every human being has an inclination to some bipolar disorder. The causes of every particular case still remain unclear. Some psychiatrists claim that there are a lot of possible causes, which may combine differently in every case. If you need to write an essay about the causes of bipolar disorder quickly, just write us: "Do my paper within 24 hours" and it will be written perfectly. However, we have listed the most popular causes of this illness:
genetic causes (it is not an inherited disease, however, there is a strong genetic component; so brothers and sisters of the patient have bigger chances to get this illness than population in general);
changes of nerve cells;
stress and important events of life (change of job, family or financial problems, wrong life style, lack of sleeping lead to this disorder; chronic stress may cause repeated episodes of the illness).
You should also know that even teens and children can suffer from bipolar disorder. In addition, children, whose parents have this disease, are in the risk group.
How to treat bipolar disorder properly?
The most important thing in bipolar disorder treatment is the choice of the right approach. In such way, patient's mood and general situation could become stabilized. The treatment should consist of medical and psychological. This balance is the perfect option for taking control over the illness. In addition treatment should be managed without any pauses. It is quite important to trust your doctor. The efficiency of your treatment depends on how sincerely you talk with your psychiatrist. If your case is not neglected, then you can be treated by physician. However, it will be more reasonable to take your treatment under psychiatrist's control. Firstly, your doctor should prescribe you some medicines for stabilizing your mood. It is quite likely that the next prescription will consist of medicines, which prevent spasms. If you have some problems with sleeping, your doctor will advise you an appropriate treatment. Psychotherapy is a considerable part of the treatment as well. Patient's family and friends should understand how serious this problem is and how their support and care is important now.
We do hope this essay was full of useful information for you. However, if you are interested in writing your own essay, there are a lot of cheap custom essay writing services online for students. And Smartwriters.org is one of the best among them!
Popular topics:
●Child Abuse Essay: Forms and Impact of Violence
●Asthma Essay: Is It Possible To Cure This Disease
●Own Business: What Should We Do?
●Online Essay Help –Best Option For Your Writing