Racism In America Essay: Features And Problems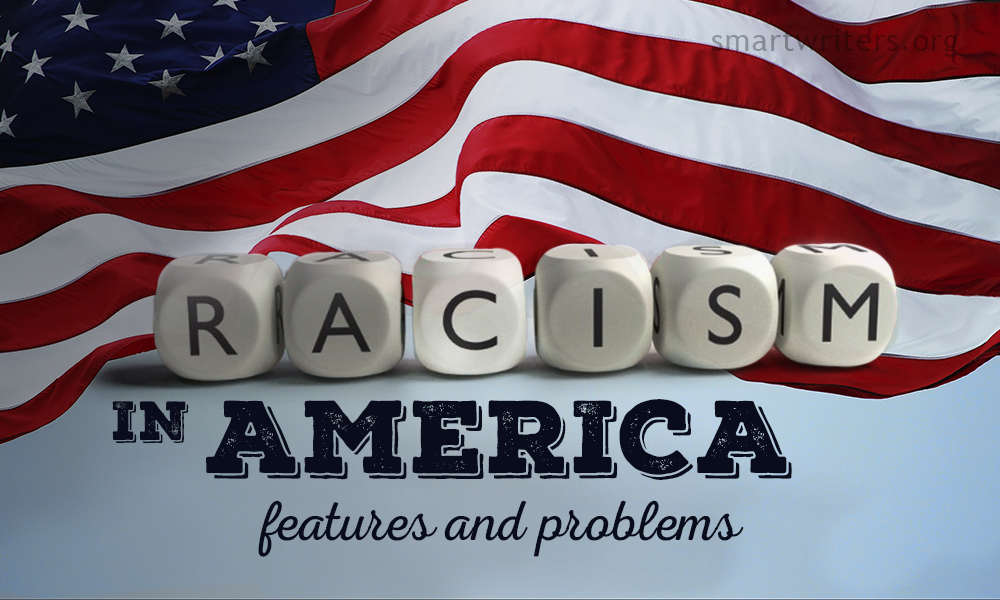 Racism is defined as the discrimination based on physical and mental inequality of human races. The racist philosophy frequently contains the concept that people can be subdivided into separate groups defined by the disparity in their social features; they are supposed to be inferior and superior. Racism can be described as a great problem of modern society, though it is politically unacceptable. However, these racist prejudices can be expressed in a covert way. If you are interested in essays about racism and other useful works contact custom essay writing services.                             
Nowadays racism is spread all over the world, and authorities try to find the means to overcome it. Developed countries also suffer from this phenomenon and the USA is not an exception. Racism in the USA has existed since the country was established. The main victims of racism were native citizens (people of color) – the Indians and Negroes, namely Afro-Americans. Our aim is to provide you with useful background knowledge, so you can check our essay about American culture.
Throughout centuries, white Americans have had legally or socially vested privileges and rights. They were granted with exclusive privileges in the spheres of:
- citizenship
- immigration
- right to vote
- immigration
- land acquisition
- criminal law
These benefits were in effect for about four centuries. White Americans believed that Native Americans needed to be civilized through Christianity and European culture. This forced assimilation caused genocide, mass murder and stolen land. Moreover, such treatment made Native Americans move away from the civilization. They were forced to move to their own Indian reservations. In case, you got interested in this topic our professionals will write your racism essay for you.
Afro-Americans have passed an extremely long way of slavery. Starting from the 17th century, many Africans were kidnapped from their homelands and brought to America. Slavery separated their families; one master could sell a husband and leave his wife with little children. Although not all Africans were slaves, mostly slavery was spread in southern states. Regardless of freedom, they did not have full equality in rights with white Americans. If you feel interested in our essay writing services, check on additional useful information: http://smartwriters.org/blog/what-should-you-know-to-write-essay-on-1984
Also in this section:
- You Can Find Essay Rewriter Here
- Our Team With Pleasure Writes Essay For You
- Do My Research Paper For Me: Right Decision
- Can You Do My Homework: Who Can Help The Student
- Where Can You Buy Argumentative Essay
However, not only Native Americans and Afro-Americans suffered from racism. History shows the examples of racial discrimination against Asian-Americans, Jewish-Americans, Arab-Americans and other ethnic groups. A great number of immigrants settled in the USA in previous centuries, and it caused such racist discourse.
America has experienced plenty of racist movements. In 18-20th centuries, white Americans founded different organizations aimed at racial segregation and discrimination in human rights based on a race or ethnicity. Almost everybody heard about Ku Klux Klan, one of the most violent hate groups in America that persecuted not only Afro-Americans but Jewish people also. The quality of works is our priority, as in our racism in America essay, so do not hesitate to contact us if you need your racism today essay.
Racial segregation is a policy aimed at separation of white US population from other ethnic groups (mainly Afro-Americans and the Indians).  It was performed through different social barriers:
- separate upbringing and education
- delimitation of seating areas
- segregation in public places
Racial segregation began to exist after the abolition of slavery in the end of the 19th century. Its first features were noticed in separate schools for white and Afro-Americans, separate public transport, the prohibition on cohabitation in hotels and motels, division in catering services and Afro-American military elements. For additional facts and notions in police brutality essays check: http://smartwriters.org/blog/essays-on-police-brutality-are-immensely-important
The problems that are described in racism essays still exist. Although the law prohibits racist discourses, they appear in a covert manner. Even the election of the Afro-American president, which was considered a great to overcome racism, did not significantly influence the situation. Racism can be compared to cancer; it cannot be cured completely, but there is a possibility to gain remission.
Racial discrimination is a critical issue for Americans. It has its roots in history, and nowadays white people and Afro-Americans are at enmity because of psychological peculiarities. They unconsciously do not understand each other because one race humiliated another for a long period. The equality of rights was established through law, but not in people's minds. Race relation laws only underline the inequality between white and Afro-Americans. As for example, if one white man beats another, it will not be considered as a serious offence. However, if a white man beats an Afro-American, it will be a crime on the ground of racial hate! If our essay attracts you, you have an opportunity to make your order and our writers will provide you with high-quality essays you need.
Nowadays, the discourse of racism is seen in the most powerful business spheres. Do you see a lot of Afro-Americans in the most prosperous companies? Alternatively, are they on the leading positions there? That is the point. Principally, Afro-Americans make pile in sports and art. Why is there such a tendency? Maybe, business employers have a grudge against people with not white skin. Afro-Americans do not often get a proper education because of a color of their skin. Regardless of policies and laws against racism, this notion cannot be rooted out of human souls. Every year we witness cases of racial discrimination and segregation, despite the abolition of slavery and other legal activity against this whip of society.
Taking all the previously mentioned into consideration, we have to say that racism is rather a sensitive issue for the whole world population. People should not suffer from their race peculiarities. It is unjust that some people are privileged only because they are white or have narrow-shaped eyes. History left an imprint on human's consciousness, and some moments that are unacceptable in the modern world still occur. Maybe, people should perceive their compatriots or just other people regardless of their appearance. Every race has its own prominent and powerful people. No race is higher than another one. Historical stereotypes destroy the concept of humanism that is the only way to save this world. Try to say no to racism, because nobody knows what the fate prepares for him/her. Perhaps, someday interracial cooperation will bring you success or save your life. There is plenty of variants, so we should respect other races, despite a color of skin, eye shape, language and other factors that make people different from each other. Do you have some comments? Join us and do not hesitate to share your opinion!
In addition, you can read:
- Essay About Obesity: The Disease Of Modern Society
- Death Penalty Argumentative Essay
- Essay On American Culture. How Should We Start?
- What Should You Know To Write Essay on 1984?
- Essays On Police Brutality Are Immensely Important