Facebook Essay: How Do Social Networks Affect Us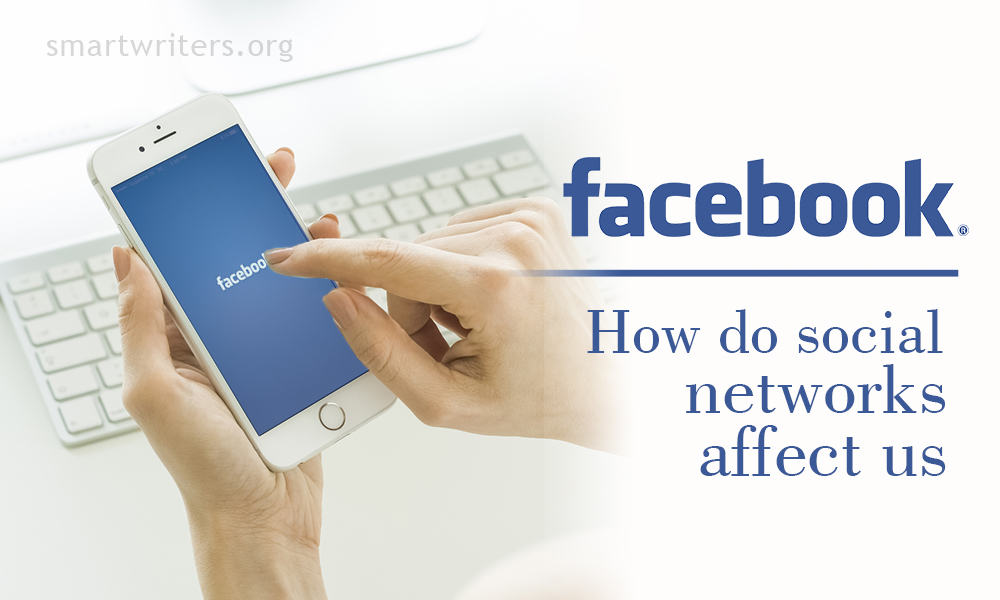 Social networks are a significant phenomenon of the XXI century. They are becoming increasingly popular not only among teens and young people, but also among adults every day. We may say without any exaggeration that today almost everyone has an account in at least one social network. It is important to mention that nowadays Facebook is known as the most popular social network in the whole world. In your Facebook essay you may say that likes, making friends and speaking with them online have become usual thing for us. But the question is following: are friendship in online world and one in real life equal? We are also convinced that this article may help you give an answer to this question: http://smartwriters.org/blog/what-is-friendship-essay-who-is-a-friend. So what makes online communication so attractive for us? What makes us spend so many hours scrolling our news feed? Of course, it is easy to send a message instead of real meeting or even telephone call. Besides, social networks give us an opportunity to always keep in touch with our friends and relatives. They also offer us such a useful bonus as an opportunity to listen to music, watch films and join various groups and communities according to person's interests and hobbies. In some social networks online games are also available. However, sometimes we even replace real communication by chatting online. In addition, one should admit that communication online via social networks has a great deal of drawbacks and causes a lot of serious problems. In this essay we will reason things out on Facebook, the most popular social network, its special features, pros and cons, impact on people's life. We will also talk about general influence of social networks and online communication. Some pieces of advice on how to minimize their impact on your life will be given as well. Do not forget that if you need to write an essay on this topic or have received any other assignment, you may use our custom essay writing service online without any doubts. We are glad to offer you a wide range of services. In addition, our teams of experienced writers guarantees you high quality of essay writing and fulfilling your order perfectly in time. By the way, using our service it is possible to order your essay whenever you feel comfortable, because our customer support is available round-the-clock.
Brief information about the social network number one in the world
It is not a big secret that Facebook is famous as the largest and the most popular social network around the world. It was founded by Mark Zuckerberg and his friends in 2004. Its first name was Thefacebook and only Harvard students had an access to it. It is interesting enough that Zuckerberg was inspired to create his project by the annual reference book of students' names, photos and addresses, which was published in Harvard University. This social network has changed a lot since that time. Firstly, the students of other Universities of the United States received an access to Facebook. Soon enough all the people in the world received an opportunity to use this social network. In 2009 Zuckerberg reported that his social network started to show positive financial balance that means that Facebook team earned more money than it spent. The first person to invest in Facebook was one of the PayPal founders, who gave 500 million dollars for development of the project. As a consequence Mark Zuckerberg became the youngest billionaire in the world. Today more than a billion people are registered on Facebook. According to statistics around 50 per cent of Facebook users visit this site every day. It is absolutely amazing, but more than 35 million people change their Facebook status every day. Did you know that an average user of this site has 130 friends and send 8 requests for friendship in a month? Do you find it surprising that a usual Facebook user spends nearly an hour on this site? In addition, 65 million people log in on Facebook with the help of their phones. By the way, these users are twice as active on site as ones who use their computers. It is also interesting that Facebook is translated in more than 70 languages of the world. By the way, there are a lot of issues for criticizing Facebook. Among them are infringement of intellectual property, manipulation of the society opinion, tracing of users, their messages and locations, dissemination of private information and many others. If you have to write an essay about criticizing this site, you can find essay writing service cheap online with us. It is also important to mention that psychologists consider Facebook to be the cause of a serious addiction. If you are especially interested in this subject, you may read about this addiction, its symptoms and the ways of treatment in the following essay: http://smartwriters.org/blog/essay-on-facebook-addiction-what-is-the-cure. Another interesting fact is that "like" button firstly appeared on Facebook. Now many creators of other social networks use this idea. However, in spite of numerous requests of Facebook users, "dislike" button was not created. It also may be unexpected for you, but the site named Usocial sells friends and followers to Facebook users. Even after the demand of Facebook to stop these actions the team of Usocial do not hurry to close their service. And the last surprising fact about Facebook for you: do you know why blue color dominates in design of this site? The answer is pretty simple: its founder mark Zuckerberg suffers from color-blindness and he has chosen blue color, because it is the richest color for him. And remember, if you have received an assignment to write an essay on color-blindness or any other illness, but you do not have time to fulfill this task, you may just write us: "Smartwriters, do my paper for me at a low price online, please", and we will create the necessary essay according to all your requirements and wishes.
What makes social networks so attractive for users?
Now we want to talk about the phenomenon of social networks in general, sure, including Facebook. What is so important and valuable in them? What makes us spend there a few hours every day? In order to answer these questions we have collected some reasons, which explain why social networks are so popular:
Using social networks such as Facebook give us an opportunity to meet new people from different corners of the world just sitting in front of our computer.
Many social networks provide their uses an opportunity to join various communities, which consist of people with similar interests.
The absolute majority of social networks are free to use.
You may share different types of content with millions of people, social networks are playing the role of "public diaries" today; in addition, you receive an opportunity to watch the details of somebody else's life.
Social networks give you a possibility to find you old friends, classmates, groupmates, etc. and keep in touch with them.
If you feel lonely, social network may help you overcome this feeling; they make you feel the part of some group.
Social networks may also serve as sources of information, news and entertainment.
We also advise you to read these essays; you may find some of them useful:
Why is it so important to take over the control of using social networks?
Let's be honest, you spend several hours typing your messages, posting photos and scrolling the news line. But just imagine for a moment what you could possibly do in this time instead of chatting on Facebook or watching pictures in Instagram. You probably could spend this time with your friends and relatives in order to show them your attention and affection, improve your relations and communication. Did you know that overusing social networks is one of the most popular causes for divorces today? Pay attention to people you love instead of wasting time on Facebook or other social networking site. In addition, using these sites less, you could pay more attention to your job. There is no doubt that even during your working time you visit some social networks from time to time. Imagine how many useful things you could do instead of it. Giving up social networks may also give you some spare time for doing sports or other beneficial activities. After all reading a book brings you much more profit than surfing social network. But for some people it is not so easy to give up Facebook, Instagram Twitter. That's why we have created a short list of tips which may help you fight this harmful habit:
Try to find a hobby; you will spend the time you usually spend in social networking sites doing something useful and entertaining for you; we also want you to know that if you need an essay about hobbies and thinking: "Who can grade my paper online for money?", Smartwriters.org will be glad to give you a hand.
Pass at least half an hour doing sports every day; it will be even better if you find some time in your schedule to have a walk.
Create the list of the most necessary activities for a day; remember that your task is doing as many of them as possible.
Do not waste your working or studying time for social networks; you will be surprised by how many tasks you manage to carry out.
Ask your friends to meet in cinema or in café, organize a family dinner; ask your friends and family members to turn off their gadgets and just enjoy speaking.
We believe that this essay has given you some new information about Facebook and other social networking sites and made you think on how much time you spend on these sites. Spend more time doing interesting and, which is even more important, real things and enjoy real life. We will be extremely happy if you look through some additional data on our team. You may find there something you have been looking for a long time.
Popular topics: