Top 10 Modern Indie Folk Songwriters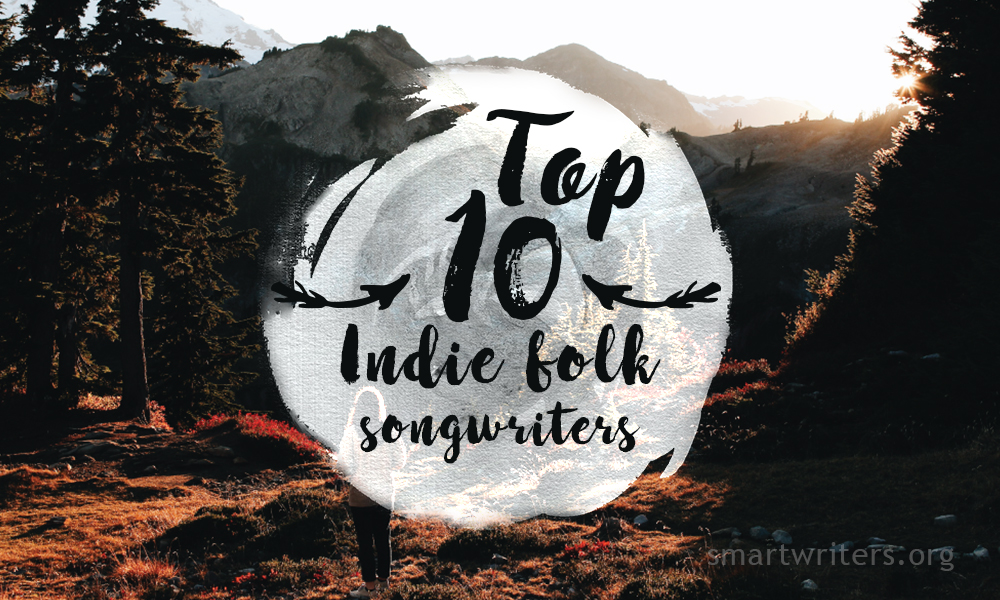 Indie-folk is a musical style that combines bright melodies, typical of indie rock, with acoustic sound of contemporary folk music, and develops under the influence of rock and country styles. Here is the Top 10 of modern indie folk songwriters that are worth our attention. We can write a custom essay for sale if you need more information about it.
1. Devendra Banhart, a performer and an artist, a singer of freedom and a mystic, a psychedelic songwriter and a pantheist, a representative of the "New Weird America" wave and the owner of a supple and pretty vocal, and just a good-looker! Devendra has regenerated the aura of the hippy culture and sincere rock 'n' roll of the 70's, and in just a few years has earned a reputation of one of the hottest singers worldwide.
The progress of Devendra is swift and easy as a song. One day he was noticed by the "guru" of musical industry, Michael Gira, who released his early CD. Instant fame! Concerts in blue-chip halls on the planet, a deal with a major recording label, XL Records, and finally, the emission of the second record Cripple Crow. Having the guitar at the ready he becomes a new songwriter-symbol of our century.
Devendra Banhart came into the world in 1981 in Texas, and was raised in Venezuela and Los Angeles. Since childhood, he began to play the guitar and to draw. In October 2002, the earlier material of Devendra Oh Me Oh My ... was released. This record became an instant hit. The first album was followed by EP and two full-length albums: Rejoicing in the Hands and Niño Rojo (both in 2004). Both albums were accepted with unanimous approval, and the audience grew. In September 2005, Devendra moved to XL label and the Cripple Crow album came out, largely groundbreaking to him. On this album Banhard's acoustic guitar is delicately accompanies with an instrumental band that brings Latin American and ethnic motifs. Banhard's songs sound to the accompaniment of piano, flute, percussion; he uses backing vocals. Devendra often designs his albums himself with very unusual, beautiful drawings. If you need an essay about it, our writers are ready to create it for you.
Devendra Banhard is still a free travelling musician, and his music is played for friends, aimed at the friendly and personal perception, and it remains such on the big stage, addressing more every one than all - melodic, deep, songs of meditation and communication with the universe.
2. Sufjan Stevens is a singer-songwriter and performer who was born on July 1, 1975 in Detroit, Michigan, US. He is a composer who uses multiple instruments, a lyricist, whose influence goes far beyond the renewal of folk in indie genre. In 2000 he created his first record A Sun Came which came out on the Asthmatic Kitty label, which he established together with his step-parent. His record Illinois (2005) ranked the top place in the Billboard Top Heatseekers. Our team can proofread essay online today, you just need to place your order.
Sufjan recorded works in different genres from electronic (Enjoy Your Rabbit) and folk (Seven Swans), to symphonies (Illinois and Songs for Christmas). Sufjan can play various instruments (guitar, bass guitar, sitar, banjo, piano, percussion, vibraphone, horn etc). Some of his compositions convey religious themes (Seven Swans). At present he lives in New York.
3. Child of the seventies, Andrew Bird has received a remarkable education, including music: on a class of guitar, violin and glockenspiel. Starting his musical experience with Squirrel Nut Zippers, in 1997 Andrew creates his own Bowl of Fire project. In his melodies folk serenity prevails and confident guitars give a sense of gentle soft rock.
In recent years, Andrew became interested in using electronic sounds in his albums: his releases Armchair Apocrypha (2007) and Noble Beast (2009) were recorded with the assistance of electronic musician Martin Dosh. You can find essay help online quickly on our website.
4. Elisabeth Corrin Maurus known as Lissie, is considered a folk singer, but her music covers a slightly larger stylistic range. Releasing in November 2009 a short album Why You Runnin', Lissie immediately attracted the attention of critics and radio stations, and it could not have been otherwise. First, the audience was surprised and delighted by the singer's voice with a wide range, sometimes like a boyish, very sincere and a little sad. Secondly, all felt a strong love in her songs about nature, and the theme of the relationship was more than ever sincere and genuine. Finally, melodies written by Maurus, are really nice and easy to remember, making her music interesting for general public of listeners. Critics never get tired of praising the voice and lyrics of Lissie, and the audience listens to her songs in the car, at home, and going for a walk. On our site you can buy argumentative essay at a cheap rate and find out more.
5. Emily Jane White was born in California, and became a singer and composer, performing dark folk. She recorded her early CD in 2007. Music of White is under the influence of blues, folk, mythology of various traditions, and modern artists like PJ Harvey, Chan Marshall, Kate Bush, and Nick Cave.
Emily grew up in the coastal part of Fort Bragg, North Carolina. Her earliest experiments to create her own performance style began in the University of California, Santa Cruz, in early 2000s. At the start she played in metal and punk projects. After a while, she created her own project named Diamond Star Halos. After graduating from university, and visiting Europe, White left for San Francisco and focused on music. Read another Top 20 of crime books here: http://smartwriters.org/blog/top-20-crime-books-of-all-time
In 2007 Emily recorded her debut record Dark Undercoat, under the Double Negative Records. Her next record, Victorian America, went on sale in 2010 under the Milan Records. Victorian America is mostly written in Oakland and also San Francisco. White says about her songs that she does not write the joyful music but loves writing sad songs.
Read more about our online writing service:
6. Benjamin Francis Leftwich is a singer and songwriter from Great Britain. Ben came into the world on September 4, 1989 in England, York. His music is a mix of charming guitar and subtle lyricism; with his young and sensual vocals, Ben's music becomes a perfect accompaniment for the final scenes of series or melodramas.
Last Smoke Before the Snowstorm is his first album which producer was Ian Grimble. The first album came out in July 2011 on the label "Dirty Hit" and immediately received favorable feedback from critics. In general, the whole album is impregnated with sentimental folk; in their turn, critics draw a parallel with Damien Rice and José González. Here you can find cheap essay rewriter online at less cost on this subject.
7. Laura Marling (Laura Beatrice Marling), a British performer, composer, and guitar player, was born on February 1, 1990 in Hampshire, England. Laura's first record Alas, I Can not Swim was recorded in 2008. In 2008 and 2010, correspondingly, her first and next (I Speak Because I Can) records were selected for the Mercury Prize. Laura won a nomination in the Best Female category on Brit Awards (2011). If you use our essay writing services, you will know more about it.
8. Mariee Sioux is a composer and performer of her songs, originally from Nevada City. Her first record, Faces in the Rocks was created in May 2007 and came out on the label Grass Roots records. Her songs are folk compositions in the style of Joanna Newsom and Joni Mitchell. Besides, in the music of Mariee Native American theme is clearly audible. Though in Faces in the Rocks she used only a guitar and a piano, you can hear a lot of sounds of wildlife and Indian folk music (e.g. percussion or wind sounds). In her music Mariee tries to convey the mood and spirit of the wildlife and culture of the Indian tribes.
9. William Fitzsimmons is among the strangest performers you have ever met. He was born in a family of sightless parents and raised on the suburbs of Pittsburgh, Pennsylvania. Paying more attention to sounds than on what the world looks like, Fitzsimmons from his childhood was deeply immersed in the world of melody owing to the huge amount of instruments, records of classical and folk songs, talking parrot and the pipe organ (his dad made it by his own efforts). Most frequently critics compare him to Sufjan Stevens, and Iron & Wine. If you ask to do my research paper quickly online, we are eager to help you.
William plays multiple instruments, he has a soft, yet powerful vocal that blends with the guitar or any other instrument that matches his mood at the moment (e.g., flute, clarinet, piano, electronic components, etc.).
In 2006 he released his next album Goodnight, consisting of thirteen compositions of his own production and composition written under the influence of his parents' divorce. Although Goodnight is remarkable for its modern sounding and the presence of electronic instruments, it is as intimate and personal as the previous album Until When We Are Ghosts (2005). His next record The Sparrow and The Crow made a very good debut at position 56 in ITunes Top Albums and the 2nd position in ITunes Folk Chart. The essay about the history of ABBA is here: http://smartwriters.org/blog/history-of-abbas-success
10. George Ezra, a performer and songwriter from Great Britain, was born on June 7, 1993. He started his career in 2013 with the record of a mini-record Did You Hear The Rain? This EP was succeeded by the next mini-record Cassy O', recorded in 2014. Coming out of a long-play album titled Wanted On Voyage took place on June 30, 2014. The lead single from the album Budapest climbed to the top ranks of leading European charts, including in the native country of the singer, the UK, where it took the 4th line in the singles chart.
So, we recommend you to look through this list of artists writing their music in the style of indie-folk, and in case you haven't heard some of them yet you can find their records and enjoy their beautiful songs.
Other popular topics: